Toyo Double Drainpipes(for civil engineering)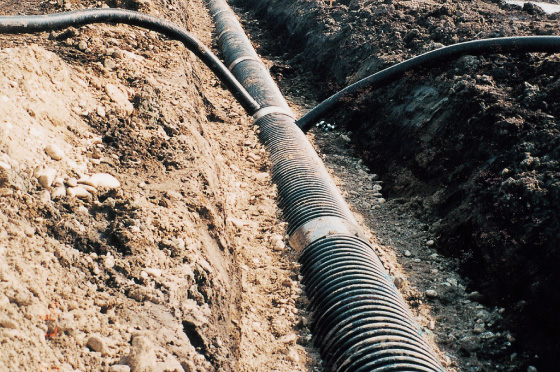 Product Information
Outline
These pipes have a smooth, flat inner surface, with a coefficient of roughness nearly equal to that of PVC pipes (n = 0.010). This makes the flow extremely smooth. It is made from polyethylene resin, which gives it good corrosion and impact resistance.
Characteristics
High withstanding pressure
In comparison with straight PE pipe (smooth inner and outer wall pipe), the crests and troughs of the ribbed structure produce a superior cross-sectional shape that increases the flattening resistance and capacity to withstand high earth fills.
Light weight facilitates work
Because the pipes are relatively lighter than other products and have excellent flexibility, transportation and laying down are easy.
Corrosion-resistant material
Polyethylene material is used to provide resistance to corrosion and attacks by a wide range of chemicals, including acids and alkalis.
High water catchment and drainage capacity
The outer pipe wall features a ribbed structure with crests and troughs, with water absorbing holes located in the troughs for good absorption efficiency. The pipe evenly absorbs water on its entire surface through holes, and their large area helps retain a stable absorption capacity for a very long time.
Excellent impact resistance
The use of polyethylene provides superior impact resistance in comparison with other materials (PVC pipes, etc.). Also suitable for installation in snowy and cold areas.
Large range of sizes
Large range of sizes available from φ50 mm to φ1000 mm to suit any site.Low roughness coefficient.The smooth inner wall of Toyo Double Drainpipes offers low resistance, allowing an extremely smooth water flow. The roughness coefficient is almost the same as that of PVC pipes (n = 0.010).
Uses
Drainage works in center of tunnels and behind tunnels walls
Road construction, drainage of spring water, land development, culvert works for disaster prevention
Drainage of farm land (culvert drainage, piping of small drainage channels)
Alternative to hume pipes
Related Information
Underground drainpipes for civil engineering
It is the customer's responsibility to always test products before use and confirm their fitness for purpose and safety.
Any product contained on this Website or any product using a product contained on this Website should be disposed of in accordance with laws and regulations.
Before use, please confirm the detailed method of use, precautions, and other information by using the technical documentation and Material Safety Data Sheet. These materials are available from the relevant Division. Please request them.
The information contained in this website is subject to change without notice as new knowledge becomes available.