Toyo Drainpipes Z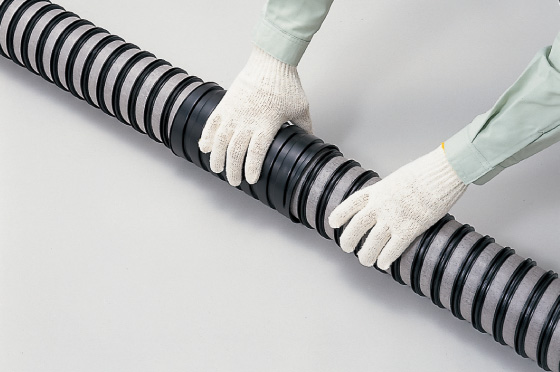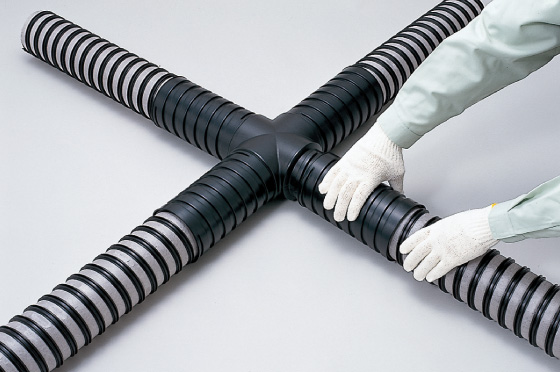 Product Information
Outline
These pipes consist of a strong, high water-permeable polypropylene filter and ribbed supporting structure. This prevents earth and sand from entering the pipes, while ensuring a smooth water-absorption effect over the entire pipe surface.
Characteristics
Excellent permeability
The pipe part uses polypropylene nonwoven fabric, with a large permeable area to display an excellent permeability.
Blocks any inflow of earth and sand
Because of the filter effect, no earth or sand can enter through permeation holes like in perforated pipes.
Excellent initial absorption capacity
The high-performance nonwoven fabric smoothly absorbs soil water.
Clogging problem solved
Because sand is used for backfilling, and the pipe and sand have the same absorption coefficient, no fine-grained soil can penetrate into the pipe, and it is less likely to clog the holes.
Resistant to soil pressure
The structure of the pipe, which uses a highly rigid reinforcing rib made of polypropylene, ensures resistance to crushing or breakage caused by soil pressure.
Light body for excellent workability
One roll of TDZ-100 (20 m) weighs only 10 kg, allowing speedy handling and excellent workability.
Matches uneven soil settlement
The excellent flexibility makes it possible to tailor the piping to the installation site, even when laying it in a curve. The piping will even match the uneven settlement of the installation soil.
Uses
Culvert drainage of sports facilities: school yards, baseball fields, tennis courts, athletic fields, multipurpose open spaces, etc.
Subgrade drainage of roads, tunnels, railroads
Drainage for disaster prevention in all kinds of land development: housing areas, golf courses, factory sites, sports facilities, etc.
Slope drainage of roads, developed sites
Underdrains for drainage systems, drainage behind retaining walls.
Culvert drainage of farm land consolidation projects. Drainage of agricultural land developments such as grassland improvements, orchards, and tea plantations.
Related Information
Underground drainpipes for civil engineering
It is the customer's responsibility to always test products before use and confirm their fitness for purpose and safety.
Any product contained on this Website or any product using a product contained on this Website should be disposed of in accordance with laws and regulations.
Before use, please confirm the detailed method of use, precautions, and other information by using the technical documentation and Material Safety Data Sheet. These materials are available from the relevant Division. Please request them.
The information contained in this website is subject to change without notice as new knowledge becomes available.