Toyo Rectangular Flume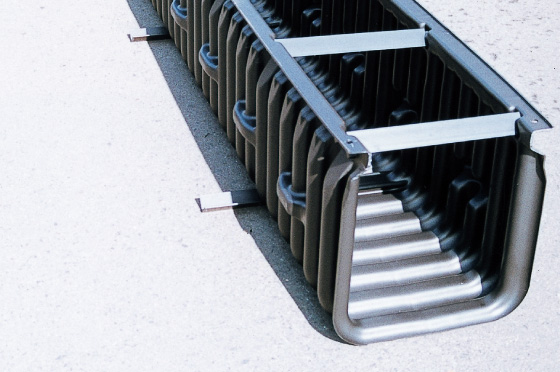 Product Information
Outline
All components of this innovative U-shaped conduit are made from plastic, making it lightweight and enabling speedy installation. Complex curved shapes are also possible using universal elbow joints.
Characteristics
Polyethylene material is used to provide resistance to corrosion and attacks by a wide range of chemicals, including acids and alkalis.
Extremely light weight in comparison with other types of U-shaped conduit for easy manual transport and installation
One-touch assembly improves work efficiency
Body sides processed for lift prevention, in addition to lift prevention angles inserted at bottom
Pre-marked holes to allow hole opening on site
Uses
Drainage channels for housing land development
Agricultural water channels
Industrial drainage channels
Drainage channels for civil engineering
Drainage channels on soft ground
Water-catching channels in wetlands
Drainage channels on slopes and mountainous areas
Emergency/temporary drainage channels
Related Information
Underground drainpipes for civil engineering
It is the customer's responsibility to always test products before use and confirm their fitness for purpose and safety.
Any product contained on this Website or any product using a product contained on this Website should be disposed of in accordance with laws and regulations.
Before use, please confirm the detailed method of use, precautions, and other information by using the technical documentation and Material Safety Data Sheet. These materials are available from the relevant Division. Please request them.
The information contained in this website is subject to change without notice as new knowledge becomes available.