Toyo Drain U Conduit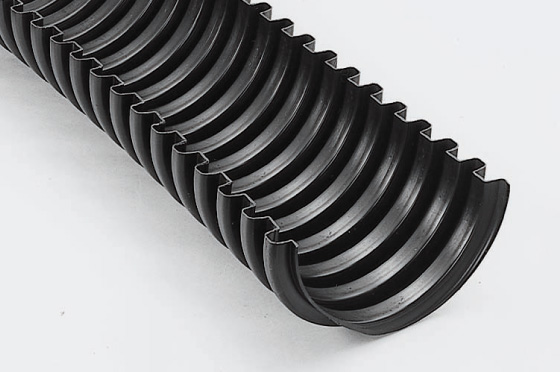 Product Information
Outline
This lightweight, rippled U-shaped conduit was developed based on Toyo Single Drainpipes. It is highly chemical and impact resistant, making it suited to temporary rain drainage conduits in mountainous areas and locations with soft soil.
Characteristics
Light weight facilitates installation operations (soft ground, mountainous areas, etc.)
Ideal for temporary drainage channels
Lighter weight than concrete products prevents sinking in soft soils
Economical: each unit is 5-m long and assembly and installation are easy since joints are not required.
Excellent bending performance allows installation following the contours of the ground
Excellent chemical resistance performance
Uses
Light drainage channels in soft ground, remote mountainous areas
Slope drainage, drainage of top of slopes, road gullies
Agricultural water channels, temporary drainage channels in river improvement works
Drainage channels in golf courses, green spaces, cemeteries, etc.
Underground drainpipes for civil engineering
It is the customer's responsibility to always test products before use and confirm their fitness for purpose and safety.
Any product contained on this Website or any product using a product contained on this Website should be disposed of in accordance with laws and regulations.
Before use, please confirm the detailed method of use, precautions, and other information by using the technical documentation and Material Safety Data Sheet. These materials are available from the relevant Division. Please request them.
The information contained in this website is subject to change without notice as new knowledge becomes available.