Non-Halogen Binding Tape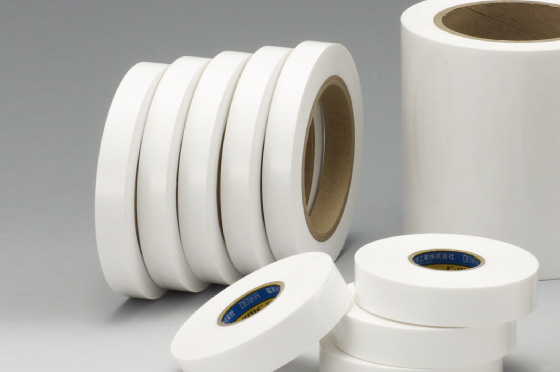 Product Information
Outline
【S-25】
This is a polyethylene-based fastening tape. It is particularly well suited to fastening polyethylene film, and is highly recyclable.
【S-26/S-26TS】
This is a new type of binding and protective tape that uses no PVC materials. It is suited to binding applications, because it leaves very little adhesive residue on the material it is adhered to.
Characteristics
【S-25】
The use of an acrylic adhesive makes it adhere more strongly to polyethylene products.
It is easier to work with because it can be torn by hand easily.
【S-26/S-26TS】
This product is designed to prevent adhesive residue, so it has less impact on the materials it is adhered to.
It is easier to work with because it can be torn by hand easily.
・This product does not intentionally use toxic substances designated by the EU's RoHS Directive. (S-25/S-26/S-26TS)
Uses
【S-25】
Binding of manuals for electrical products, office equipment, and other binding uses
【S-26/S-26TS】
Binding and protection of such construction materials as stainless-steel plates, aluminum sashes, and plastic sashes
Surface protection
Cautions for Use
After the tape is removed, adhesive residue may be left on the material it is adhered to, or the surface may be damaged, depending on the type of material, the length of adhesion, or the environment. Be sure to check before use.
Related Information
Specifications
Product number
Width(mm)
Length(m)
Packing(rolls)
Paper pipe diameter(inch)
NKT‐S‐25
10
30
200
1.3
13
250
19
200
Standard Colors
Transparent
NKT‐S‐26
13
50
132
15
120
19
96
Standard Colors
White
NKT‐S-26TS
15
50
120
3
19
96
50
36
Standard Colors
White
Physical Properties (These properties are typical values. They are not guarantees.)
Item
Measured values
S-25/S-26/S-26TS
Thickness
mm
0.1
Adhesive strength
N/cm
1.5
Back adhesive strength
mm/60minute
0.8
Standard Colors

Construction & Air conditioning
It is the customer's responsibility to always test products before use and confirm their fitness for purpose and safety.
Any product contained on this Website or any product using a product contained on this Website should be disposed of in accordance with laws and regulations.
Before use, please confirm the detailed method of use, precautions, and other information by using the technical documentation and Material Safety Data Sheet. These materials are available from the relevant Division. Please request them.
The information contained in this website is subject to change without notice as new knowledge becomes available.