Anticorrosive Vinyl Tape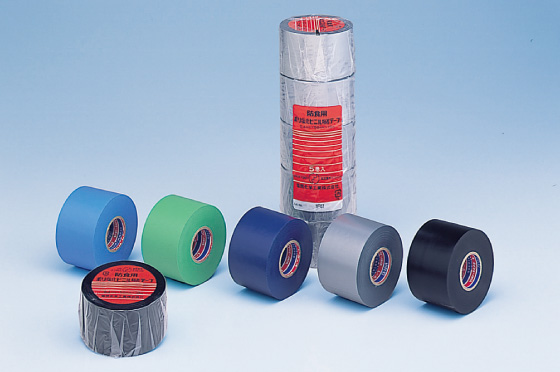 Product Information
Outline
This Vinyl tape protects and prevents corrosion of pipelines and cables.
Characteristics
Our anticorrosive Vinyl Tape is JIS Z 1901 certified.
This Vinyl Tape has excellent electrical insulation functionality, and is less susceptible to degradation of resistibility after installation.
It provides good protection against natural corrosion of underground metal pipes, as well as electrolytic corrosion from leakage current.
It is easy to work with, and can be wound easily around the curved parts of joints and other areas.
Uses
Protecting and preventing corrosion in water, sewage, gas, and other pipelines
Protecting and preventing corrosion in electrical and communication cables
Protection of factory pipes and ducts subject to humid or corrosive environments
Related Information
Specifications
Thickness (mm)
Width (mm)
Length (m)
Packing (rolls)
Color
0.4
25
10
100
Standard colors as below
50
50
75
30
100
20
Physical Properties (These properties are typical values. They are not guarantees.)
Item
Adhesive strength (N/10mm)
Tensile strength
Elongation
Test plate
Backside
N/10mm
%
At room temperature
After immersion in hot water
At room temperature
After immersion in hot water
JIS ratings
1.00
0.95
0.80
0.95
39.0
130
Measured values
2.10
2.81
1.60
2.45
60.5
230
Item
Insulation resistance
PH
Heat resistance
Heat resistance
MΩ
variation
JIS ratings
100 and over
±1.0
No discoloration or discharge of the film or adhesive shall occur at 50℃.
-No transfer of adhesive, tearing of the film, or cracking of the film shall occur at -5℃.
Measured values
1000 and over
Within ±1.0
Acceptable
Acceptable
Standard Colors

Construction & Air conditioning
It is the customer's responsibility to always test products before use and confirm their fitness for purpose and safety.
Any product contained on this Website or any product using a product contained on this Website should be disposed of in accordance with laws and regulations.
Before use, please confirm the detailed method of use, precautions, and other information by using the technical documentation and Material Safety Data Sheet. These materials are available from the relevant Division. Please request them.
The information contained in this website is subject to change without notice as new knowledge becomes available.