VINI-TORA Tape (Vinyl Tape)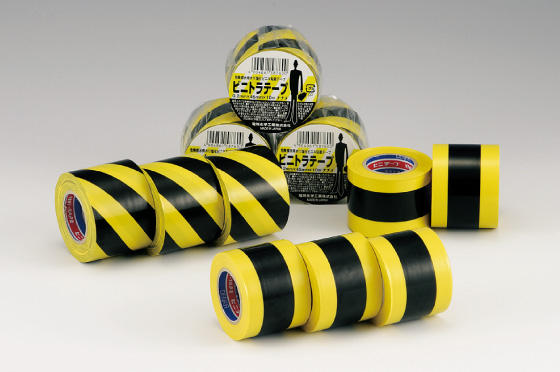 Product Information
Outline
#This #101 VINI-TAPE is printed with black and yellow stripes for marking dangerous areas.
Characteristics
This adhesive tape enables you to easily create danger displays.
The strong adhesive sticks firmly.
This product does not intentionally use toxic substances designated by the EU's RoHS Directive.
Uses
・Danger displays at the construction work sites, various facilities, etc.
Related Information
Specifications
Thickness(mm)
Width(mm)
Length(m)
Packing (rolls)
Color
0.2
45
10
100
Yellow, Black
90
10
50
Horizontal
45
10
100
Yellow, Black
90
10
50
Slant
Standard Color

Physical Properties (These properties are typical values. They are not guarantees.)
Peel adhesion
Tensile strength
Elongation
Volume resistivity
Withstand voltage
N/10mm
N/10mm
%
MΩ・cm
5000V×1 minute
Test plate
Backside
1.10
1.90
28.2
180
4.3x108
Good
Construction & Air conditioning
It is the customer's responsibility to always test products before use and confirm their fitness for purpose and safety.
Any product contained on this Website or any product using a product contained on this Website should be disposed of in accordance with laws and regulations.
Before use, please confirm the detailed method of use, precautions, and other information by using the technical documentation and Material Safety Data Sheet. These materials are available from the relevant Division. Please request them.
The information contained in this website is subject to change without notice as new knowledge becomes available.