Fused Magnesium Phoshate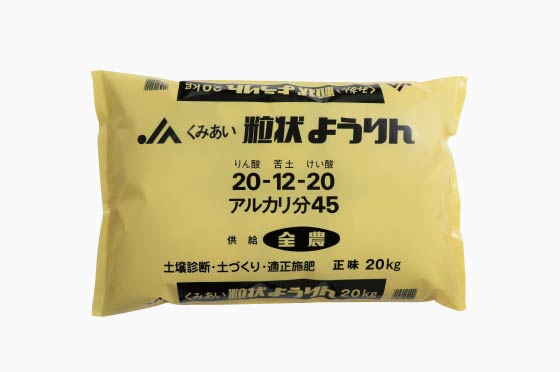 Product Information
Outline
"YORIN" is a fertilizer suited for organic agricultural production. Fine-grained sandy and granular versions, as well as BM YORIN containing boron/manganese, are available. This is a soil enriching/improving fertilizer that contains many constituent elements, and improving the soil's retention of the fertilizer, whereby nutrient-poor soil is soon transformed into healthy soil.
Characteristics
Phosphoric acid, magnesia, silicic acid, lime, and minor elements are absorbed efficiently.
Phosphoric acid is soluble in the organic acid secreted from roots, and is absorbed by crops without runoff, thus being environmentally friendly.
Soil acidity can be remedied.
Uses
For soil improvement, the following reference amount should be applied. Note that the amount may be increased or decreased depending on regional and soil conditions.
[rice paddies] 40 - 80 kg/10 a, [fields] 100 - 140 kg/10 a, [orchards] 80 - 120 kg/10 a, and 200 - 300 kg/10 a for volcanic ash soil, farmland for foundation improvement, and developed grassland
Agri-Products Department Product List
It is the customer's responsibility to always test products before use and confirm their fitness for purpose and safety.
Any product contained on this Website or any product using a product contained on this Website should be disposed of in accordance with laws and regulations.
Before use, please confirm the detailed method of use, precautions, and other information by using the technical documentation and Material Safety Data Sheet. These materials are available from the relevant Division. Please request them.
The information contained in this website is subject to change without notice as new knowledge becomes available.