Wire Harness Vinyl Tape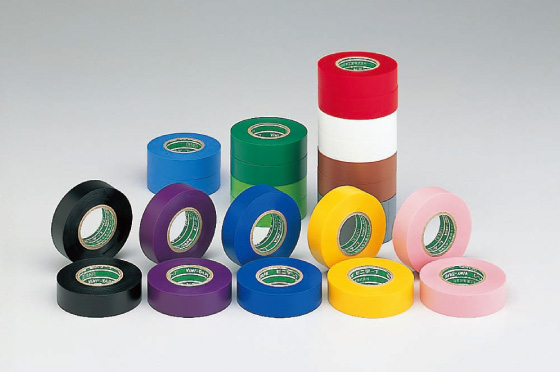 Product Information
Outline
In 1964, we harnessed our experience with VINI-TAPE to launch a variant for automotive wiring. This product has a long history of reliability. We can support a variety of specifications according to our customers' needs. We also offer environmentally friendly alternatives: we can provide products with lead-free adhesive stabilizers, and replace adhesives in some of our products with low-VOC alternatives as needed.
Characteristics
This product was designed for ease of use. The backing is made using polyvinyl chloride (PVC), which has superb flexibility.
It is easy to tear by hand, and winds well. It also adheres firmly.
Our proprietary manufacturing technology minimizes tape deformation over time.
It comes in a wide variety of colors, making it excellent for use in identification.
The toluene content was greatly reduced through the use of environmentally friendly low-VOC adhesive.
This product does not intentionally use toxic substances designated by the EU's RoHS Directive.
Uses
Binding of wire harnesses for automobiles, telecom equipment, etc.
Related Information

Standard Colors

Specifications
Product
Thickness(mm)
Width(mm)
Length(m)
Packing (rolls)
Color
#234W Harness Tape
0.13
15
20
240
Standard colors as above
(except Transparent)
19
200
Standard colors as above
#232W Harness Tape
0.1
19
25
200
Black
25
160
#246 Frame-Resistant Harness Tape
0.11
19
25
200
Black
25
160
#234WS Slit Harness Tape
0.13
10
20
400
Black, Gray, Blue, White, Green
※Please Contact us for any other specifications.
Physical Properties (These properties are typical values. They are not guarantees.)
Product
Adhesive strength
Tensile strength
Elongation
Volume
resistivity
Withstand voltage
Superposition
Peeling
N/10mm
%
MΩ・cm
1 minute
N/10mm
N/10mm
#234W
19.4
1.42
19.6
170
6.0x108
5000V
#232W
16.4
1.42
16.5
170
6.0x108
1500V
#246
17.0
1.42
16.6
170
6.5x108
1500V
#234WS
-
1.49
19.6
170
6.0x108
5000V
※Measurements for #234WS Slit Harness Tape are before slit treatment.
Related Information
Auto Industry(vinyl tape)
It is the customer's responsibility to always test products before use and confirm their fitness for purpose and safety.
Any product contained on this Website or any product using a product contained on this Website should be disposed of in accordance with laws and regulations.
Before use, please confirm the detailed method of use, precautions, and other information by using the technical documentation and Material Safety Data Sheet. These materials are available from the relevant Division. Please request them.
The information contained in this website is subject to change without notice as new knowledge becomes available.