DENKA BLACK Li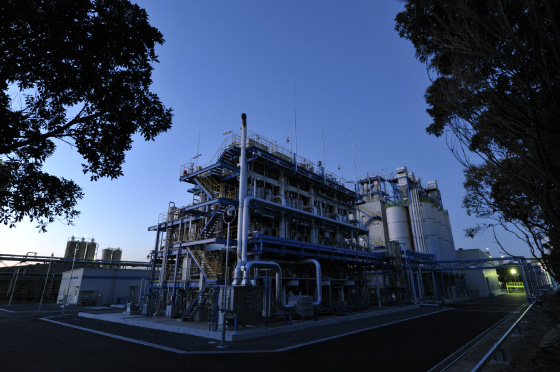 Product Information
Outline
DENKA BLACK Li is an ultra-pure acetylene black having minimal metallic impurities used as an conductive additive in lithium ion batteries and next-generation batteries; a rapidly expanding market in recent years.
Characteristics
DENKA BLACK Li maintains the original characteristics of DENKA BLACK, but improves on its predecessor by minimizing the level of metallic impurities to the lowest possible extent.
In addition to fulfilling the fundamental requirements of a lithium-ion battery conductive additive (high electrical conductivity and electrolyte-rentention),
DENKA BLACK Li mitigates battery short-circuits caused by metallic impurities and markedly improves the issue of battery defect rates.
Related Information
Related characteristics
Ultra-high purity acetylene black
Boasting ultra-high purity afforded by thermal self-decomposition of acetylene black, DENKA BLACK Li is widely used in lithium ion batteries. To meet high quality-demands in this sector, we have finessed our purification techniques through in-house production know-how.
Furthermore, to provide a supply of higher purity grade of carbon black, we established new production facilities in Chiba Plant.
Through the accumulated experience gained from over 70 years of production in Omuta and Singapore, we were able to reduce metallic impurities content to 10% of its original level by harnessing technology to first, minimize generation of metallic impurities and second, remove any metallic impurities generated.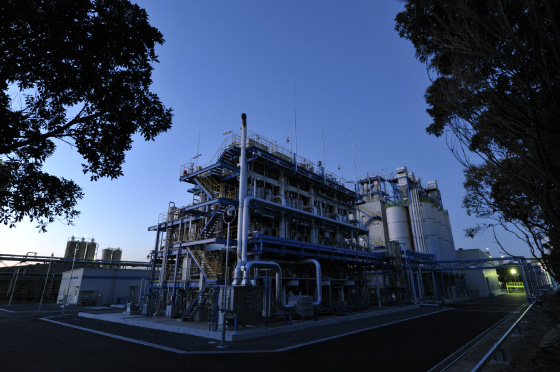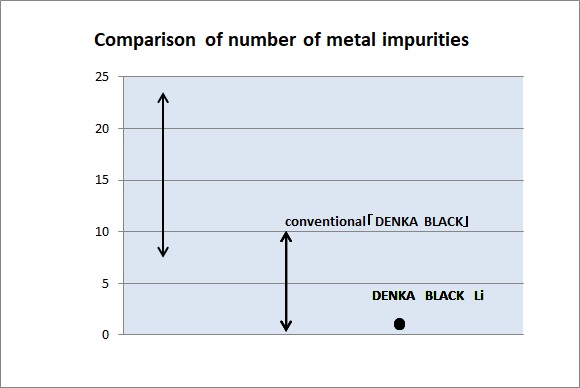 DENKA BLACK Li
【Li-100】DENKA BLACK Li powder grade
【Li-250】Improved handling and reduced powder scattering is afforded by compressing powder grade
【Li-400】Excellent dispersibility; suited best for high power applications in batteries
【Li-435】Small particle size, high surface area as well as high structure; suited best for high capacity applications in batteries
DENKA BLACK Li Grade(typical values)
DENKA BLACK Li Grade
Powder Products
Press Products
Li-100
Li-250
Li-400
Li-435
<Form of primary particle>
Average particle size (nm)
35

37

48
23
Surface Area (㎡/g)
68
58

39
133
Iodine adsorption value (mg/g)
92
82
52
180
 <General physial properties>
Bulk density (g/ml)
0.04
0.08

0.15

0.05

Hydronchloric acid absorption (ml/5g)
16.8
-

10.4
25.8
Acetone absorption (ml/5g)
-
38
-
-
Ash content (%)
0.01
0.01
0.01
0.01
Moisture content (%)
0.04
0.07
0.04
0.08
Grit content (ppm)
< 10
< 10
< 10
< 10
Packing (kg)
5
10
20
10
Special Conductive Material Dept. Product List
Sample Request
It is the customer's responsibility to always test products before use and confirm their fitness for purpose and safety.
Any product contained on this Website or any product using a product contained on this Website should be disposed of in accordance with laws and regulations.
Before use, please confirm the detailed method of use, precautions, and other information by using the technical documentation and Material Safety Data Sheet. These materials are available from the relevant Division. Please request them.
The information contained in this website is subject to change without notice as new knowledge becomes available.