Gravure Print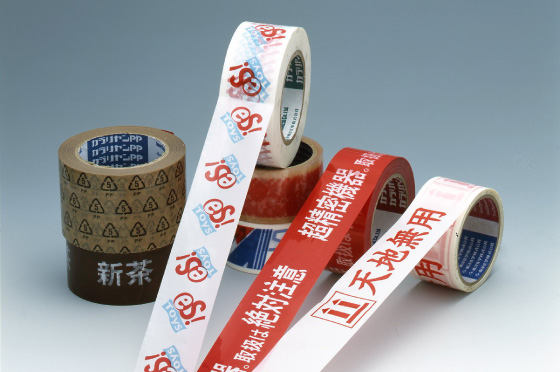 Product Information
Outline
This packing tape can be printed with the original design you specify, including company or product name.
Characteristics
Gravure printing makes printing of highly detailed designs possible.
Ink can be printed with close approximation of specified colors.
Select base color of transparent, white, or beige.
It uses an environmentally friendly non-solvent rubber hot-melt adhesive.
This product does not intentionally use toxic substances designated by the EU's RoHS Directive.
Uses
Printing tape for packaging
(Products for printing)
OPP tape
PP-60, PP60M, PP-40, PP-40M, CUT-E 70, CUT-E Super 40
Caralyan Tape (beige only for base color)
Supple Cloth Tape
Related Information
Specifications/Production lot
Width (mm)
Length (m)
Production lot (rolls) *In case of OPP tape
38
50
1050
50
800
60
660
75
530
50
100
400
* Note that production volumes may vary slightly. (Roughly ±20%)
* The production lot for CUT-E 70 only is 2250m².
| Printable colors | Design pitch |
| --- | --- |
| 3-color letter | Pitch is adjustable in the range up to 700mm (10mm unit). |
It is the customer's responsibility to always test products before use and confirm their fitness for purpose and safety.
Any product contained on this Website or any product using a product contained on this Website should be disposed of in accordance with laws and regulations.
Before use, please confirm the detailed method of use, precautions, and other information by using the technical documentation and Material Safety Data Sheet. These materials are available from the relevant Division. Please request them.
The information contained in this website is subject to change without notice as new knowledge becomes available.