DENKA ALSINK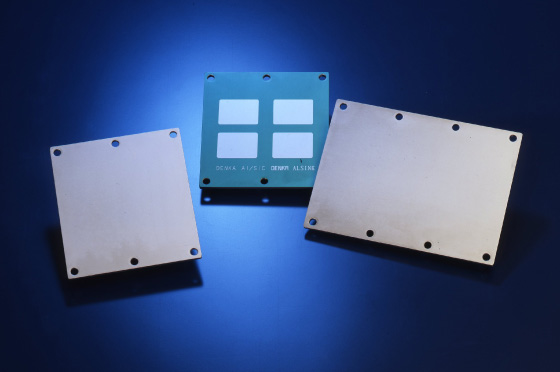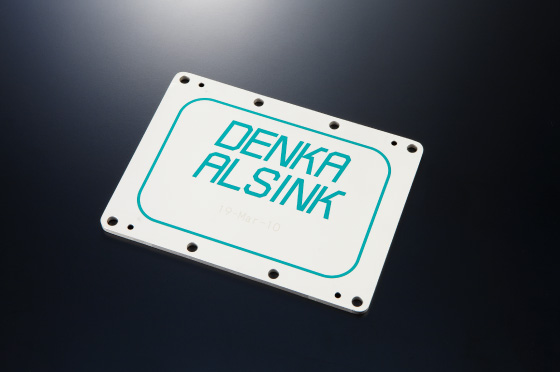 Product Information
Outline
DENKA ALSINK is an aluminum-based composite (MMC) consisting of Al-SiC and ceramics, and an excellent material characterized by low thermal expansion, high thermal conductivity, high strength, and lightweight. These days, it is drawing attention as a substitute for ceramics and metals like Al and Cu/Mo alloys.
Characteristics
Al-Al-SiC has a coefficient of thermal expansion similar to that of alumina (Al2O3) and thermal conductivity as high as that of aluminum nitride (AIN), making it the most suitable for heat dissipation applications. Its physical properties can be adjusted by selecting the type and content of ceramics. It can also be used for effective, high-rigidity, lightweight structural members.
Uses
Base boards for power modules such as IGBT and diodes that require high reliability (heat sinks)
Heat-dissipating lids for semiconductor packages such as CPUs (heat spreaders)
Components for microwave devices such as optical and communication devices
Components for semiconductor and LCD panel manufacturing equipment
Feature
DENKA ALSINK achieved excellent ease of fabrication and plating by coating the surface of MMC with a 10 to 150 μm Al-alloy layer.
Product specifications and basic properties
Comparison of physical properties.
Related Information
It is the customer's responsibility to always test products before use and confirm their fitness for purpose and safety.
Any product contained on this Website or any product using a product contained on this Website should be disposed of in accordance with laws and regulations.
Before use, please confirm the detailed method of use, precautions, and other information by using the technical documentation and Material Safety Data Sheet. These materials are available from the relevant Division. Please request them.
The information contained in this website is subject to change without notice as new knowledge becomes available.