EF Tape (Non-adhesive Vinyl Tape)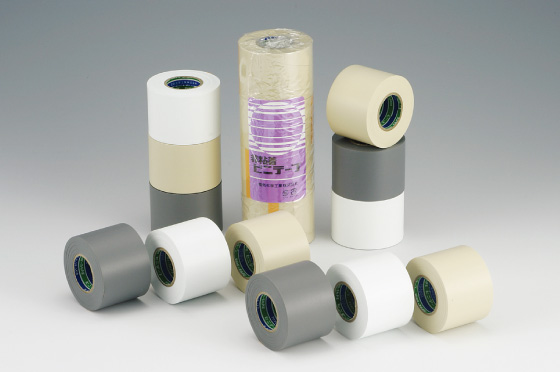 Product Information
Outline
EF Tape is a non-adhesive vinyl tape developed for air conditioning ducts.
A range of colors is available to match various building exteriors.
Characteristics
The matte surface finish makes this product harmonize well with outer walls.
This product does not intentionally use toxic substances designated by the EU's RoHS Directive.
Uses
Protection of air conditioning ducts
Protection of hot-water pipes, etc.
Related Information
Specifications
Thickness (mm)
Width (mm)
Length (m)
Packing (rolls)
Color
0.15
50
18
80
Standard colors as below
75
40
Physical Properties (These properties are typical values. They are not guarantees.)
| Tensile strength | Elongation |
| --- | --- |
| N/10mm | % |
| 25.5 | 200 |
Standard Colors

Construction & Air conditioning
It is the customer's responsibility to always test products before use and confirm their fitness for purpose and safety.
Any product contained on this Website or any product using a product contained on this Website should be disposed of in accordance with laws and regulations.
Before use, please confirm the detailed method of use, precautions, and other information by using the technical documentation and Material Safety Data Sheet. These materials are available from the relevant Division. Please request them.
The information contained in this website is subject to change without notice as new knowledge becomes available.