Cle-R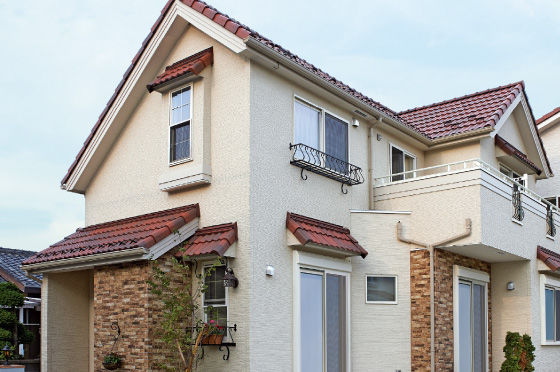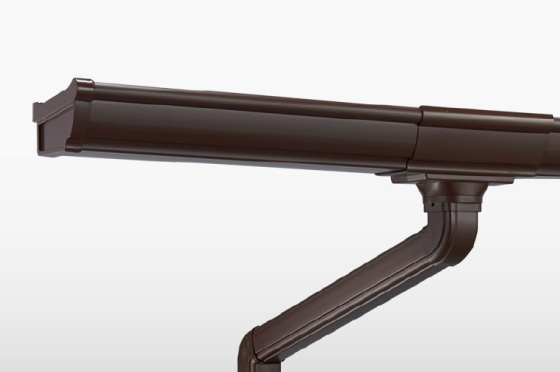 Product Information
Outline
Cle-R Toyo Gutters have a unique design consisting of combinations of gentle R-shaped curves. This beautiful shape gives the appearance of wrapping the roof's eaves, and gives the gutters excellent durability. (Weather-resistant specification)
Characteristics
Unique R-shaped Design
With their combination of gentle R-shaped curves, Cle-R models feature a unique design. Blending into buildings with gracious simplicity, their beautiful shapes fit to homes as if enveloping their eaves. They also offer excellent durability and economy.
High drainage capacity
Cle-R gutters feature an effective cross-sectional drainage area of 67.9 cm², boasting the highest drainage capacity in their category. Almost eliminating the need for drainage slopes, this large cross-sectional area also contributes to the esthetics of buildings by adding gracious horizontal lines to their eaves.
Uses
Rain gutters receive rainwater fallen on buildings and drain it smoothly. They fulfill the important role of preventing residual rainwater from turning into moisture and damaging buildings. As part of the exterior, they also accent the features of the external appearance without any sense of incongruity.
Related Information
Color variations

Eave troughs specifications
Product
Specifications
Product number
Color
Packing
SB
W
SW
K
EG
AB
SH
UB
Eave Trpughs
CR105F
(Length: 3,600 mm)
A3060C020
○
○
○
○
10
Eave Trpughs
CR105
(Length: 3,600 mm)
A3060C001
○
○
○
○
10
Rain gutters for homes
It is the customer's responsibility to always test products before use and confirm their fitness for purpose and safety.
Any product contained on this Website or any product using a product contained on this Website should be disposed of in accordance with laws and regulations.
Before use, please confirm the detailed method of use, precautions, and other information by using the technical documentation and Material Safety Data Sheet. These materials are available from the relevant Division. Please request them.
The information contained in this website is subject to change without notice as new knowledge becomes available.