DENKA Σ2000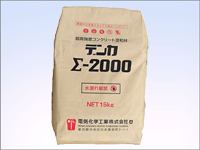 Product Information
Outline
DENKA Σ2000 achieves super high strength concrete of 85-150N/mm² very easy.
Characteristics
Additive for:
Centrifugally cocompacted super high strength concrete products of more than 100N/mm².
Super high strengtproducts of more than 85N/mm².
Uses
Super high strength pile
Super high strength for multistory building
Super high strength concrete products
Amount
Typical dosage rate
5-15% by cement weight
Packing
15kg paper bag
800kg bulk bag
Paking
It is the customer's responsibility to always test products before use and confirm their fitness for purpose and safety.
Any product contained on this Website or any product using a product contained on this Website should be disposed of in accordance with laws and regulations.
Before use, please confirm the detailed method of use, precautions, and other information by using the technical documentation and Material Safety Data Sheet. These materials are available from the relevant Division. Please request them.
The information contained in this website is subject to change without notice as new knowledge becomes available.